All the Arrows Point to Golf
All the Arrows Point to Golf. If Golf is in Trouble, We're in Trouble!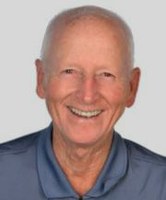 It's a Plus
26.88 Million Americans had it right in 2014 according to GolfLink.
Andrew Wood of Legendary Marketing has it right too! Get people off their butts and out to the golf course.
Golf is healthy recreation for people of all ages. It's a sport, a pastime, a recreation, a character builder, a source of vitamin D, a social activity, a personal challenge, and a mental break from daily life.
According to a CNN story, Golfers live longer. In fact, an article in the UK indicatesthat golfers live up to five years longer than those who don't play golf.
A well run municipally owned golf course can contribute to the quality of life for its citizens as well as boosting the surrounding golf industry. The best example of a community-owned golf course is Village Links of Glen Ellyn located just west of Chicago.
GOLF IS NOT IN TROUBLE! WE'RE IN TROUBLE!
Playing golf is an experience around the most beautiful manicured parks you could imagine. When located in cities and urban areas, golf courses are becoming more and more associated with the Audubon Society like Blue Hills Country Club (Kansas City, Mo. Follow the link to read how the Blue Hills golf course is a contributor.
If golf is in trouble it means we're in trouble.
Do you mean to tell me that life is better today than it was in 1975? In those days people could find the time to enjoy 18-holes of golf with friends. Isn't it strange that people living the so-called good life in 2017 cannot find enough time in their lives to play a round of golf? And what about kids?
GOLF IS A CHARACTER BUILDER FOR YOUNG PEOPLE
I ran a golf center in Peterborough, Ontario for almost 30-years. I watched hundreds of kids grow up with golf as part of their lives. Every kid I knew that played golf all summer turned out to be first rate citizens. In fact, my best summer employees came from my junior club. I found them to have great integrity. In fact, as soon as they were hired I trusted them to handle cash without the slightest hesitation.
A mother once told me that her son, a junior member, was too pooped at night after playing golf all day to get into trouble at night. She said he'd get home and flop into bed.
THOUSANDS OF GOLF COURSES ON THE BRINK WHEN THEY ALL SHOULD BE THRIVING
The press has been all over the 1,500 failed golf courses in recent years. Why would a golf course like Walden Lake in Plant City, Florida fail? It's part of a 2,200 home development of up to 8,000 residents. There should have been a couple of hundred kids playing along with their families on what was once a beautiful golf course.
The beautiful Ravines Golf Resort in Middleburg, Florida closed its doors in 2004 when it should have been on the verge of booming!
Oak Ford Golf Club, a terrific and busy 27-hole golf course in Sarasota, Florida was hosting over 80,000 rounds when I was managing the place back in '97. Oak Ford was an out-of-the-way golf course but people loved it because it was so peaceful. On any given day golfers would encounter bobcats, deer, alligators, otters, foxes, red tail hawks, spoonbills, and endless bird species along with the fun of playing golf. It's gone! It's crazy! It's a shame.
MUNICIPALITIES COPPING OUT ON THEIR COMMUNITY GOLF COURSES
It's sad. It's also a cop out. Municipalities originally opened their own golf courses for their citizens to enjoy. Municipal golf course were never planned as money-making enterprises, rather as a reflection of the good life in their community. Recently, cities all around the USA are copping out of what was one of their shining examples of a good community. I read a quote by a city official in a California newspaper saying golf is dying - the councillor's reason for voting to pull the plug on their municipal golf course.
Credit the City of Tampa Sports Authority. Tampa's Sports Authority manages three municipal golf courses - Rocky Point, Babe Zaharias, and Rogers Park. I used to play them with a few good friends in the early 90's. Man! they were busy golf courses and they still are today. The city finds the three golf courses to be valuable to the community, which one of the reasons why Tampa is one of the most desirable cities to live in the USA.
GOLF IS SOCIETY'S CANARY
I believe the plight of golf is society's canary. When life is good golf flourishes. However, the US population is up 30-million since 1990, yet the golf playing population is down by 6-million. What's that mean?
Golf is more than just a pastime for rich old men.